SCOIL NAOMH FIONÁN ~ CONFIRMATION CLASS 2012 - Let us remember in our prayers the pupils of 6th Class who will receive the Sacrament of Confirmation in the Sacred Heart Church, Muff on Thursday 26th April @ 6.00 p.m.
James Breslin, Kiara Callaghan, Tristan Clarke, Michael Cregan, Conor Doherty,

Deborah Doherty, Kerry Doherty, Ruairí Doherty, Aaron Duffy, Sean Duffy,
Roísin Elves, Deaglán Ferns, Michelle Grant, Shane Harkin, Michaela Harrigan, Eilish Havlin,

Caoimhe Kelly, James Lynch, Olivia Logue, Colm McCarron, Joanne McCauley,

Kimberley McCloskey, Shane McColgan, Dympha McConalogue, Darren McCole,

Shane McCreadie, Shauna McGeoghan, Chloe McLaughlin, Anna Margey, Anthony Margey,

Orla Murray, Amy Quigley, Matthew Richmond, Natasha Sharkey, Seán Winston.
---

SCOIL NAOMH FIONÁN ~ FIRST HOLY COMMUNION CLASS 2012
Let us remember in our prayers the 38 children from 2nd Class who will make their First Penance next Sunday 1st April (Palm Sunday) @ 3.00 p.m. and who will make their First Holy Communion on Saturday 26th May @ 11.00 a.m. in Saint Columba's, Drung.
Maisie Cardin, Oisín Caulfield, Oisín Davenport, Fionnuala de Brún,

Lauren Doherty, Amber Farren, James Farren, Laura Faulkner, Peter Grant,

Seamus Harley, Daniel Harkin, Dermot Hoy, Ciara Kelly, Siúin Lafferty,

Shaciára McCallion, Gráinne McCann, Mary McCauley, Oran McCauley,

Darragh McCole, Oran McConnellogue, Cara Rose McDaid, Ben McGinley,

Amy McGonagle, Joshua McGonagle, Drew McKinney, Cara McLaughlin,

Craig McLaughlin, Mairéad McLaughlin, Niamh McLaughlin, Ruth McNally,

Fergal Muirhead, Sadhbh Mullan, Shaun Mullin, Shea O'Doherty, Blaine Porter,

Brendan Sharkey, Kim Steele, Kayleigh Sweeney.

---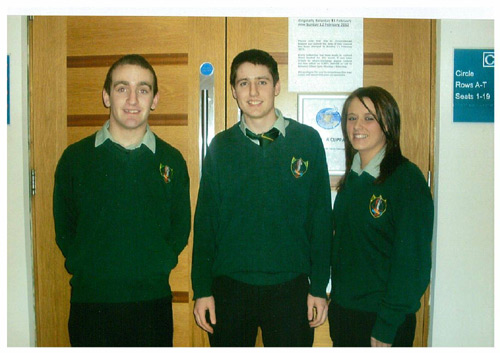 CONGRATULATIONS TO: Martin Orr, Shaun McCauley and Shauna Diver, Moville Community College, who received their Pope John Paul II Awards recently in the Millennium Forum, Derry.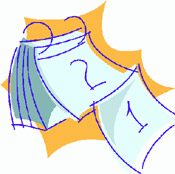 DATES TO REMEMBER
First Holy Communion @ 11.00 a.m. on Saturday 26th May in Drung.
SCOIL NAOMH FIONÁN
CONFIRMATION 2012 will take place on Thursday 26th April in
Sacred Heart Church Muff @ 6.00 p.m.

A BELOVED PRINCIPAL RETIRES ~ JUNE 28TH 2011
In 1974, Mrs Maureen Scott moved from Glenmakee National School, Carndonagh to Clunelly National School. She remained there until it closed on 28th June 1991. It amalgamated with Drung National School and Clar National School, becoming Scoil Naomh Fionán with Mrs Scott as Principal. The school has grown a lot over the last years in more ways than one, for example the increase of teaching staff from 8 to 12 teachers, and our new classrooms.
Mrs Scott, all of us here in Drung and the surrounding areas wish you a long and rewarding retirement. We thank you for your commitment and dedication to our children ~ farewell and God bless you!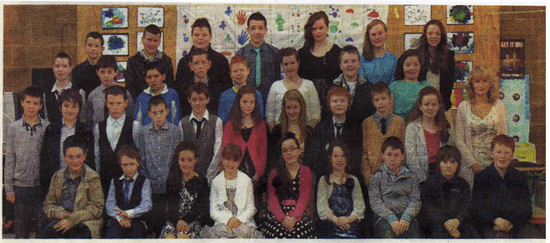 Confirmation Class of 2011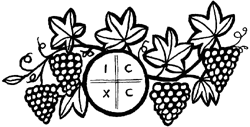 SCOIL NAOMH FIONÁN
FIRST HOLY COMMUNION CLASS 2011
Let us remember in our prayers the boys and girls from Second Class who made their First Holy Communion on Saturday 21st May in Drung Church @ 11.00 a.m. and their teacher, Mrs Lafferty.
Ciara Breslin, Aaron Campbell, Ciarán Crossan, Conor Curran, Eimear Curran, Darran Davenport, Aisling Doherty, Clara Doherty, Katie Doherty, Megan Doherty, Megan Farren, Nicole Farren, Proinnsias Ferns, Michaela Green, Stephen Havlin, Dermot Hirrell, Aoibheann Kelly, Rónán Lafferty, Martin McCarron, Lee McCauley, PJ McCauley, Shaun McCauley, Nicola McGonagle, Aisling McLaughlin, Ciarán McLaughlin, Shane McLaughlin, Caitlín McNally, Caoimhe Murray, Amber Neary, Anna Nicholas,
POPE JOHN PAUL II AWARD
The Fourth Annual Award Ceremony for the Pope John
Paul II Award took place on Monday 7th March in
the Millennium Forum, Derry at 7.30 p.m. The
evening was an opportunity to acknowledge and
celebrate the many ways our young people have been
actively involved in the Parish and Community over the
past year. Congratulations to:
Letitia McConalogue, Maria McGowan, Michael Bonner,
Ryan Doherty, Greg Breslin, Shaun Ferns, Shaun Curran,
Sinead Cunningham, Elaine McLaughlin.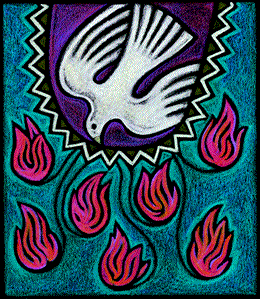 SCOIL NAOMH FIONÁN ~ CONFIRMATION 2011
Congratulations to the pupils of Sixth Class who received the
Sacrament of Confirmation from Bishop Lagan last Sunday.
Thank you to Miss B. Lynch, the Class Teacher. Thank you to
Mrs Scott and Mrs Haughey and the Choir of Scoil Naomh Fionán.
Thank you to the Cleaners, the 'Traffic Wardens', Anne Marie and Sandra, Rose our Florist and to all who helped with and provided refreshments in the Community Centre afterwards. Your help is much appreciated!

SCOIL NAOMH FIONÁN ~ CONFIRMATION 2011
Let us remember in our prayers the pupils of Sixth Class who will receive the Sacrament of Confirmation from Bishop Lagan, today (Sunday) @ 12.00 noon.
Shay Bonner, Conor Callaghan, Deyna Collins, Cathal Crumlish,
Rhys Davenport, Liam DeBrún, Caroline Doherty, Erin Doherty,
Seanán Doherty, Erin Faulkner, Darren Harkin, Ciarán Loftus, Chantelle McCauley, Joseph McCauley, Jamie McClelland,
Rhianna McCreadie, Mark McDonald, Racheal McElhinney,
Aoibheann McGarry, Neil McGowan, Aiden McLaughlin,
Conleth Mullan, Eunan Mullan,
Daniel Mullin, Sean Murray, Calum O'Kane,
Shane Orr, Liam Sharkey, Sarah Streete,
Luke Thompson, Niamh Tomany, Daryia Whoriskey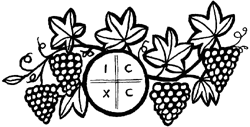 SCOIL NAOMH FIONÁN ~ FIRST HOLY COMMUNION CLASS 2010
Congratulations to the 46 boys and girls from second class who made their First Holy Communion on Saturday 22nd May at 11.00 a.m. A BIG THANK YOU to their teachers, Mrs Lafferty and Mrs McLaughlin.
Thomas Carlin, Alan Clarke, Caoimhe Crumlish,
Caitlin Davenport, Altan Dean, Jamie Diamond, Christopher Doherty,
Georgia Doherty, Paul Doherty, Molly Eden Curley,
Rachel Elves, Ryan Elves, Ben Faulkner, Aodhán Ferns,
Oisín Gillespie, Caolin Grant, Shane Grant, Destiny Harkin,
Joseph Harley, Megan Havlin, Molly Havlin,
Leah Hourigan, Ronan Hoy, Jack Keyes, Daniel Logue, Michael Lynch,
Sarah McCann, Deirdre McCauley, Erin McCole, Shane McCole,
Aisling McDermott, Elaine McDonald, Clíodhna McGarry, Jason McGonagle,
Treasa McGonagle, Shannon McMonagle, Killian McNally, Eoin Muirhead,
Cameron Mullan-Murray, Louise O'Connor, Olivia O'Doherty, Mark Ruddy,
Katie Thompson, Leah Tomany, Deirdre Toner, Oisin White.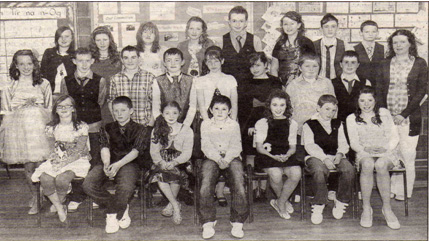 Confirmation Class 2010 with their Class Teacher,
Mrs Joanne Lynch. Congratulations!

The Confirmation Class will have the opportunity to take the pledge abstaining from alcohol until they are 18, (abstaining from drugs for life) @ the 9.30 a.m. Mass on Pentecost Sunday 23rd May.
SCOIL NAOMH FIONÁN ~ CONFIRMATION CLASS 2010
Congratulations to the 22 boys and girls from sixth class who received the Sacrament of Confirmation in The Sacred Heart Church, Muff on Tuesday last. The Celebrant was Bishop Hegarty
Shane Bonner, Patrick Canavan, Courtney Clarke,
Jonathan Collins, Rebecca Coyle, Dean Curran, Niamh Diver,
Mark Doherty, Ronan Doherty, Liam Og Duffy, Ryan Harkin,
Áine Havlin, Matthew Havlin, Sarah Hoy, Catherine Lynch,
Breda McConalogue. Emma McGonigle, Gerard McLaughlin,
Rachel McLaughlin, Patricia Margey, Caitlin Mullan and Liam Toye

JOHN PAUL II AWARD
Congratulations to the following: Clara Margey, Carrie McCallion and Mark Roberton, who will receive their Pope John Paul II Awards in the Millennium Forum in Derry on Monday 1st March: Well done from all in the Parish and many thanks for your industry and endeavour